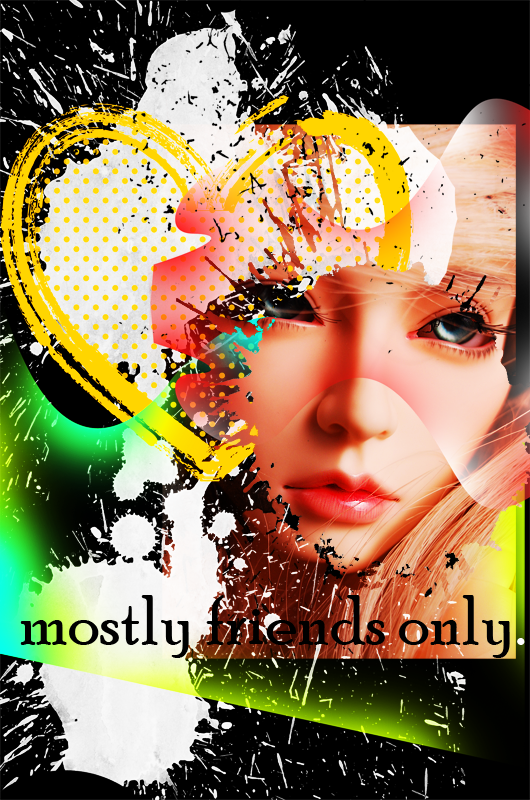 Comment to see all the REALLY good stuff. Ok, so it's not that great, in fact, I'm kind of boring. But eh.
Current Location:

Home!

Current Mood:

cheerful
I admit it, my secret was that I am getting the set, a Narae and Narin...
Actually,
My Narin came TODAY!
After winning a 100$ gift card
to my twins favourite art store (Gave it to her, won it for her.)
WHAT LUCK!!!
So I have many pictures for you.. I am sorry about his looks and clothes, they are all temporary. You see, I swore to my twin if she let me buy him, because I'd just bought the Narae, I would sew one garment a night for my dolls. So I havent gotten to him yet, he is wearing handmedowns right now. Also, forgive the crap pictures, I cant find my SLR and my small cam is out of battery, I assure you I will take more tomorrow.
Name: Toshio
Age: 18
Will make up some other stuff, so much creative freedom here!
(
More pics of Toshio!
Collapse
)
Current setup, him and mags
Speaking of Magdalena, it was her I chose to sew for. I spent the night before last tediously enlarging and scanning and taping and cutting a historical gown for her. It is so gorgeous. So today I sewed the mockup:
(
Cut, poor pics, will take more tomorrow.
Collapse
)
Well
Current Mood:

cheerful

Current Music:

Kids by some indie band


Also ridiculous is the girl I bought a very special doll from. First she said she'd ship it monday. On Tuesday she claimed her boyfriend shipped it wrong, it came back to her, and she will ship it on Saturday. Why she cant ship during the weekday is beyond me, but Im sure Saturday I will hear another excuse. If the doll isnt here before 30 days I am filing a claim. Its been almost 9.

In other news I also purchased another doll from a lady who will be shipping him TONIGHT. I trust her. SO EXCITEDDDDDDDDDDDDDDDDDDDDDDDDDDDDDDD
WHEEEEEEEEEEEEEEEEEEEEEEEEEE

That is all.
These overlay ads on Livejournal are RIDICULOUS. PLZ.
Current Mood:

cheerful


I will try and post more and have an awesome blog.
I have a really exciting secret that I must post that I have.
Current Mood:

cheerful


Love my dolls. Cant wait to begin my epic story.
No inspiration to post, doing fine re-adapted easily to polyphasic, before the week was up I was back on track.
Current Mood:

cheerful

Current Music:

Gallery remix Mario Vasquez, DJ love
DO NOT waste your time or your money with them. By the time they finally ship you shit you have a bad taste in your mouth, dont even want a damn THEY ARE LIARS.
I dont give a damn about waiting 6 months for my precious 16 of a kind doll, what I do have a problem with is when they CONSTANTLY LIE and attempt to use manipulative language about it.
08-03-2009, 11:15 AM
#211

Member

Join Date: Mar 2008

Location: Ohio

Posts: 62

Limhwa Shipping Update

---

Dear Friends,

The update from Limhwa is that she should be shipping this coming weekend. When we receive the tracking information next week, we will send out individual emails. Thank you for your patience

Your, Joan

p.s. That also means the next ordering period should be opening next week!
GREAT COOL THX
And then, even though we were BEGGING FOR IT
NO FUCKING WORD FOR TWO FUCKING WEEKS.
WHEN WE GET WORD WE ARE RE-ASSURED
Yesterday, 12:22 PM
#252

Member

Join Date: Mar 2008

Location: Ohio

Posts: 62

Dear Friends,

We do apologize for causing any anxiety. While Limhwa is shipping in batches, maybe she will do the big boys last. They are really overwhelming to wrap and ship so please try not to worry. Again, we are sorry for the delay and appreciate your patience.

__________________

Joan, Customer Service
http://dollfair.com/
http://www.enchantmentdoll.com/
http://limhwa.com/

And then LO AND BEHOLD, at our insistence
Today, 12:29 PM
#255

Member

Join Date: Mar 2008

Location: Ohio

Posts: 62

In our shipping lists, some people had special requests regarding vacation, invoices for customs, etc. We are more than happy to be accommodating. They were out of the ordinary for Limhwa. She wanted to double-check that information with us and the translator. You can understand how important that is. We will receive tracking numbers some time this week. I'm sorry we don't have more information. Thank you for your continued patience.

__________________
Joan, Customer Service
Today, 02:19 PM
#256

Married to The Sasquatch

Join Date: Jan 2007

Location: Arizona!

Posts: 702

So in other words the initial belief that they were being sent out last weekend was wrong, there has been a delay? Can you please be up front about that? So there was a delay to double check with the translator? Can you please verify. I think it's wiser to just say "There's been a delay" I am sure 80% of us would deeply appreciate honesty instead of being given a verbal runaround.

__________________


Mars, The Head, And the rest. I finally figured out how to make a signature.
Aya's Blog Myspace
FUCK YOU FUCK YOU FUCK YOU I DONT WANT H
IM I WANT THE SOOM DOLL DAMNIT FUCK YOU A
T LEAST SOOM DOESNT LIE AND MAKE LIES AN
D EXCUSES AND KEEPS UP WITH THEIR CUSTOM
ERS. THEY UPDATE CONSTANTLY ABOUT PUSHING BAC
K PRODUCTION!!!!
AUUUUUUUUUUUUUUUUUUUUUUUUUUUUUUUUGH THEY DONT LIE AND GIVE THE RUNAROUND! AS
SHOLES!
Dollfair International, middleman for Narindolls, Limhwa, Batchix, Enchantment doll, Supia, N-Doll, and Atelier Nouveau are the WORST company to buy from of all time.
Current Mood:

cheerful

Current Music:

Battlefield Jordin Sparks


Dollfair is disgusting and stupid.

I was really looking forward to my doll, but after week 8 which is the final week they say at the LATEST he would be here, I didnt even want him anymore. There are only a few pics of him on the net, so its not like I could pour over them a hundred times. Now it's week 10 and I just want my goddamn doll. I paid sevenhundredfuckingdollars for this doll. That is a new SLR, a scooter, 700 meals at taco bell.

EFF YOU EFFING DOLLFAIR.

Dollfair is the world's worst middleman seller. They are outrageously slow, with horrible communication, LIES about their wait time. I DESPISE THEM. Actually, I always have. I wish they would go under so that Narin and Limhwa would be encouraged to make international ordering pages of their own, DIRECT.
Current Location:

work

Current Mood:

cheerful
I am thoroughly distracted from sleep by facebook and the discovery of bulgarian pop music.
Current Location:

My precious home!!!

Current Mood:

cheerful

Current Music:

http://www.imeem.com/timelessserenade/playlist/4z3XmxVT/desi-slava-music-playlis


- Re-write resume
- Submit resume to 130 job openings
- Finish portfolio website
- Pull out interview clothes in anticipation
- Clean the bathroom
- Clean the living room
- Mop the floor
- Find a tshirt pattern for Aya
- Make a tshirt for Aya
- Finish Mar's Jeans
- Work out
- Finish Chapter 3 CSS
- Finish Chapter 4 CSS
- Finish ending chapter
- Start Javascript 1
- That's all I can think of right now.

This is a to-do list for when I am bored:
Current Mood:

cheerful